NC Budget bath remodel & Estimate: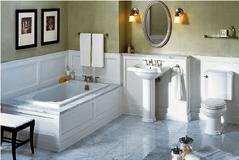 Remodeling a bathroom in NC can add a considerable amount of value and appeal to a home. However the investment of $4,000-$17,000 is not always in everybody's remodeling budget. On the other hand, the bathroom is one of the main rooms potential buyers contemplate when deciding whether or not to make a purchase and remodeling a bath room is definitely a wise investment in more ways than one. The initial investment can be entirely regained when the right choices are made. The bulk of the cost of most bath remodeling projects is the labor, and anything you can do without professional help is money in your pocket, though in most cases the labor intensity, the timing for the project as well as the required know how will clearly be in favor for hiring an professional remodeling contractor. Other projects that require a little help are also well worth the investment, especially if they are necessary to complete the bath makeover or improvements. We offer a free Consultation & a Free NC bath remodeling estimate.
New Coat of Paint
A new coat of paint can make a remarkable difference in the rooms appearance. It will give the room new life and make it easier to apply any of the following recommended changes. Choose wisely and check out the Color page for more information.


Refinish Old Bath Cabinetry
When remodeling your bath on a budget, consider cabinet refinishing or wood veneer laminates instead of replacement, especially if the bathroom cabinets are sound and in overall good condition. Remodeling the bath room cabinetry that you have is far less expensive than buying new, and you will not require the help of a professional. Consult information on installing wood veneer laminates and cabinet refinishing. You will discover it really is not difficult to accomplish, even for an amateur, and the money you save will be well worth the time and effort. Maybe even a new countertop could make a significant difference.

Update Bath Cabinet Hardware
Cabinet hardware is available in all price ranges, styles, themes, and colors. Amazingly, the look of old bathroom cabinetry can be significantly changed with the addition of new drawer and cabinet pulls. This is a low-cost way to change the appearance of cabinetry without investing in entirely new cabinets. You can find hundreds of stylish hardware options for cabinets, and even if cabinets and drawers never had pulls, they can be outfitted with brand new hardware to create a completely different look.
Custom Bathtub and Shower Wall Liner
If your old bathtub is affecting the appearance and the overall value of your bathroom remodel, consider investing in a custom bathtub liner instead of costly and messy professional bath-tub and tile replacement. Although this option is not cheap, it is far less expensive than completely removing and replacing an existing bathtub and shower wall. The finished bathtub and shower unit will look fantastic, and no one will ever guess the original bathtub and shower wall are behind a liner.

New Faucets & Showerheads
Stained, etched, and discolored faucets and showerheads detract from the entire appearance of a bathroom, and those on a budget can add a significant amount of appeal and value with the addition new fixtures. Visit your local home improvement store, or shop online for new faucets and an updated showerhead that will improve the appearance and value of your bathroom. Quality faucets and showerheads are not cheap, but they are well worth the expense when completing your NC bath remodel and updating a bathroom.


Update the Lighting
Bathroom lighting that is outdated detracts from the appearance of a bathroom, but numerous options are available in all styles and prices, and lighting is relatively easy to replace. Homeowners should not be afraid to replace old lighting, especially when remodeling your bath on a budget. As long as the power is off at the electrical box, and when instructions are followed, it is possible to safely and successfully replace bathroom lighting. Updating lighting while remodeling will add value to your home, and the lighting you choose has the potential to change the entire look of the bathroom without costing a small fortune. We can include those in our Free NC bath remodeling estimate.

Use your free consultation!
Bath Remodeling on a budget is our NC business and our first consultation as well as the estimate is free of charge to you!
So go ahead and get some free advise from your NC bathroom remodeling professional you can schedule our meeting right here!
Call now 704-469-7833
Past Bath Room Remodeling Projects